Free compostable food waste caddy liners and soil conditioner
West Berkshire residents can enjoy two freebies this September!
on
06 September 2023
16:53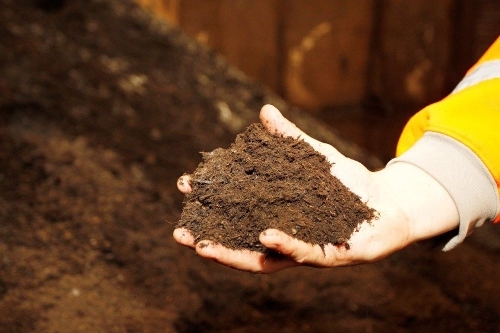 Back by popular demand, residents can collect a free roll of compostable food waste caddy liners to help continue with food waste recycling and pick up some free certified soil conditioner too!
Compostable Food Waste Caddy Liners:
For a limited time only, from 4 to 30 September, residents can collect a free roll of compostable food waste caddy liners. These are available during regular opening hours at all West Berkshire Council Libraries and from the Council Office reception at Market Street in Newbury, while stocks last.
This offer is only open to West Berkshire residents and proof of address or a library card is required. We're asking that you only take one roll per household to give as many residents as possible the opportunity to benefit from this offer.
If you're not already a member of your local library, why not sign up for a free membership at the same time as collecting your liners.
Soil Conditioner Giveaway:
On Saturday 23 and Sunday 24 September we're holding our third soil conditioner give away, from 10:00am until 4:00pm, in our visitor's car park at our recycling facility on Padworth Lane, RG7 4JF.
The soil conditioner is made from the food and garden waste we collect from residents of West Berkshire. It is taken to our In-Vessel-Composter at Padworth Lane where it is turned into certified soil conditioner for use by local farmers and landscapers and due to popular demand, we're again giving it away to West Berkshire residents for free.

Please bring along your own bags/boxes and gloves, and you must be responsible for collecting and loading the soil conditioner from the site to your own vehicle. Shovels will also be provided.

No appointment booking is necessary but please bring along ID or a recent utility bill with you to prove you are a resident of West Berkshire. Please be patient. This is a free event and demand for previous give-away events has been huge, so please expect some queues particularly at the beginning of each day. We will be re-stocking throughout the day so there is no need to get to the site early. We also ask that you only collect a reasonable amount to ensure everyone has an opportunity to make use of this offer.
Cllr Adrian Abbs, Executive Member for Climate Action, Recycling and Biodiversity at West Berkshire Council, said:
"It is a pleasure to be able to offer these two linked initiatives. Firstly, the 'free to collect' soil conditioner for every resident who can use it and secondly, helping get more food waste from the black bin into our food waste caddy. The reason the two are linked is that the food waste is turned into soil improver at our Padworth facility and it shows how a circular economy might emerge. That same conditioner is sold to local farmers who help produce our local food!

"I truly hope that these free caddy liners will further encourage the use of the weekly food waste collection service. It has diverted 3,398 tonnes of food waste away from disposal so far but could do so much more as 25% of the black bin remains food waste."
Dave Matthews, General Manager at Veolia West Berkshire, said:
"Veolia West Berkshire are very pleased to be offering the free-soil conditioner to residents again this year after the success of the previous give-aways.

"We are very proud of the quality of our soil conditioner product at Veolia West Berkshire, which is created within the Padworth Facility using West Berkshire garden and food waste.

"Veolia is a global champion of ecological transformation and is excited to be offering the residents of West Berkshire the environmental and social benefits of locally produced soil conditioner free of charge."
Please note there will be vehicle restrictions in place. Vehicles listed as prohibited in the Household Waste Recycling Centre (HWRC) user guide (see page 12) will not be allowed. No commercial vehicles will be admitted; this is for householders only. Residents have to take necessary precautions for carrying the soil conditioner safely to their vehicle. The event organisers accept no liability for any injuries or damage that may be sustained by residents loading their vehicles with the materials.
More information about composting visit: www.westberks.gov.uk/compost and for more information about food waste collection please visit: www.westberks.gov.uk/foodwaste.
Last modified:
06 September 2023
18:20