Northcroft Lido is open!
The newly transformed Northcroft Lido, Newbury, officially opened on Monday 21 August with a fabulous free event enjoyed by local communities and visitors from across the district and beyond.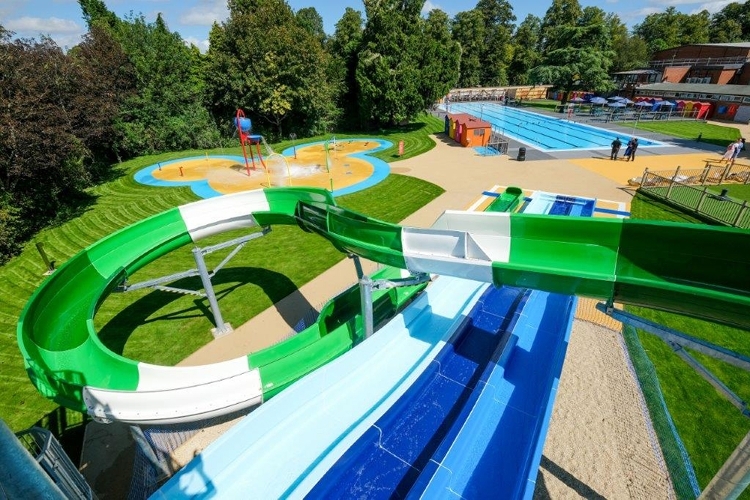 The iconic facility has undergone a complete transformation to provide an enhanced experience for visitors of all ages and to extend the outdoor swimming season to a period of six months, from April through to the end of September.
The pool has been reduced from 72m to a 50m Olympic length pool, making room for a new interactive splash pad and slides, plus a beautiful decking area where people can relax and colourful beach huts to give a seaside feel. The spiral flume is nearly six metres high, with the racer slides around three metres high.
The pool has also been made shallower with a new depth of 0.9m-1.58m. The 0.9m depth runs for 20 metres and enables less confident swimmers to enjoy the Lido as well as providing opportunities for water based activities. The lower water volume also means that it requires less energy to heat the pool and is, therefore, better for the environment.
To visit the Lido, you'll need to create a free booking profile. This can be done by registering your details online, on the Everyone Active app or by calling Northcroft Leisure Centre (01635) 31199. For ease of entry, this would be best done in advance but can be done when you arrive on the day.
Visitor numbers are limited, and booking is advisable to avoid disappointment. Under 8s must be accompanied by an adult.
Due to the popularity of the lido, we recommend arriving at least 15 minutes before your session starts to allow adequate time to get through reception and into the lido for the start of your session.

There is limited parking for the lido, but additional parking can be found at the entrance to the driveway of Northcroft Leisure Centre.
Please book your place at Northcroft Leisure Centre - Everyone Active, through their app, or call on (01635) 31199.
Last modified:
24 August 2023
11:08