West Berkshire Council celebrates official opening of Castle@Theale
The Castle@Theale was officially opened yesterday
on
02 November 2023
13:33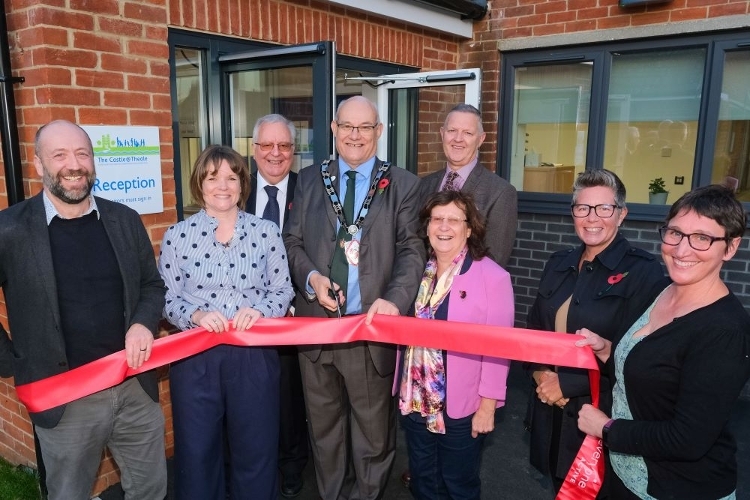 The number of secondary school places for children with social, emotional and mental health (SEMH) needs in West Berkshire was given a boost when The Castle@Theale opened its doors last year.
The new facility, which is a satellite of The Castle School in Newbury, will provide a much-needed additional 42 SEMH places within the district. 12 young people took up their places in September 2022 with a further 30 places opening up by the 2027/28 academic year.
The Castle@Theale makes use of the former Theale Primary School buildings, which were vacated in 2020, when the new primary school was opened on Englefield Road. Among the upgrades to the buildings are improvements to their energy efficiency, which have seen them go from Grade D to A, and restoration work to their original features, such as the old school bells, to help retain their character.
The facility also comprises an additional modular building, which will serve as a new horticulture and design technology block and a multi-use games area. Newly installed solar panels on the main school building will generate electricity and hot water for the school.
Cllr Heather Codling, West Berkshire's Executive Member for Children, Education and Young People, says,
"We are really proud of this new facility which will provide an excellent standard of education to young people in a wonderful, inclusive environment.

"The Castle@Theale is a special place where students will grow both emotionally and educationally and we're delighted to see how well it has been received since it opened.

"Providing an excellent standard of education for all local young people is one of our main priorities and a key area for investment. The number of children with special educational needs has increased significantly in recent years and we're responding to this by increasing our specialist provision with excellent facilities such as this."
Jon Hewitt, Headteacher at The Castle School, Newbury and Castle@Theale says,
"We got off to a fantastic start in our second 'Castle home' and it's exciting to declare it officially open. The reaction from young people, their families and staff has been brilliant.

"Having such a great environment in which to learn has a really positive effect on the educational outcomes of our young people and it's great that The Castle School and West Berkshire Council have collaborated to bring The Castle@Theale to life.

"I look forward to welcoming even more students to the school in the coming years. I know they will love being here just as much as we do."
Last modified:
02 November 2023
13:35