Bus service upgrades coming your way!
New evening bus service in Newbury & Thatcham and a Sunday service for Mortimer
on
14 September 2023
17:23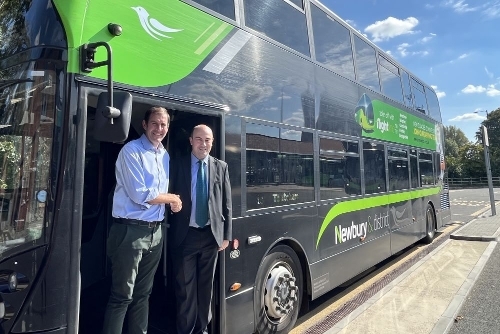 Exciting news awaits you in September 2023 with more great reasons to embrace your local bus services!
Starting from 8 September, Newbury & District is rolling out a late 1e evening service on Fridays and Saturdays between Newbury and Thatcham. Additionally, Reading Buses Lime 2a service will now extend to Mortimer every 2 hours on Sundays, starting from 10 September; enhancing the service from Burghfield to Reading, which has not been available for some years.
Imagine the possibilities: catch a movie, go on a shopping spree in the Oracle, enjoy the vibrant Corn Exchange, savour a meal out, connect with friends and family at local bars and eateries, or explore new job prospects. All with the convenience of the bus.
These service enhancements are part of West Berkshire Council's longstanding commitment to boosting late evening and Sunday bus services throughout the district. With the recent addition of the X34 service between Newbury, Harwell Campus, and Didcot, it's clear that local bus services are evolving to meet your needs.
And remember, your concessionary fares bus pass is fully valid on all local bus services in West Berkshire and Reading from 9:30am to 11:00pm on Fridays, and all day long on Saturdays and Sundays. Don't miss out on the wonderful opportunities that await you with these improved bus services!
Cllr Lee Dillion, Leader of West Berkshire Council, said:
"We're thrilled to announce these exciting enhancements to our bus services; a result of the partnership between West Berkshire Council, Reading Buses, and Newbury & District.

"We're taking strides to bring improved connectivity and convenience to our community. The revamped bus service between Newbury and Thatcham, along with the expanded Sunday service to Mortimer, demonstrates our commitment to making public transport more accessible and enjoyable for everyone to enhance the lives of our residents in an environmentally sustainable way."
Robert Williams, Chief Executive Officer of Reading Buses, said:
"We are delighted to be introducing these enhancements for customers in the Thatcham and Mortimer areas as an outcome of our work in partnership with West Berkshire Council. They form part of a wider series of improvements that we are introducing, with more information available at www.reading-buses.co.uk."
Richard Holden MP, Roads and Local Transport Minister, said:
"People up and down the country deserve a modern, reliable, and affordable public transport system. That is why we have provided West Berkshire Council with over £2.8 million to boost its bus services.

"Supporting the Council with introducing new evening and Sunday services this autumn is fantastic for local residents, who will now be able to get to work, attend medical appointments and visit loved ones more easily."
Both of these improvements to the bus services have been made possible with funding from national Government via the Department for Transport. The funding was given to West Berkshire Council after we submitted a Bus Service Improvement Plan (BSIP) in October 2021. We worked together with Reading Buses and Newbury & District to actually make these improvements happen.
For more details, and to keep up to date with future announcements about your local bus services in the coming months, simply check out the websites of Reading Buses and Newbury & District.
Last modified:
14 September 2023
17:29