Innovative Approach to Combat Potholes and Enhance Road Safety
How AI technology will help reduce costs in the future
on
17 November 2023
14:55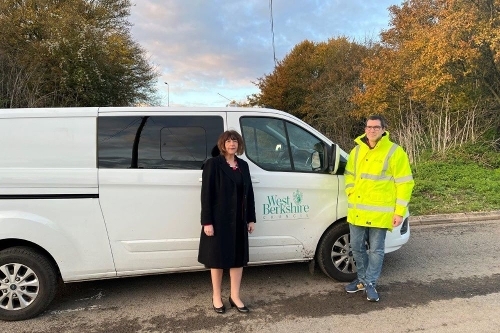 In an innovative move, West Berkshire Council is piloting the use of Artificial Intelligence (AI) technology for predictive road management, which will help reduce costs in the future.
Collaborating with industry leader, Vaisala, the AI technology in our inspection vehicles will now digitally capture images of the road conditions, traffic signs, and road markings to help predict where carriageways could become faulty, which in turn will help in our decisions for future investments and maintenance projects.
Using AI technology will provide analysis of data and reports building up layers of data that will map out defects after it's been captured. As a council we can be more efficient in our road maintenance programmes with less time and money spent on finding and fixing carriageway problems across the district.
To date, we have invested approximately £6.5 million in a combination of Council and grant funding for road repairs and maintenance. This significant investment has resulted in the resurfacing of over 27 kilometres of roads and fixing 1,874 potholes so far this year, nearly tripling the count from the same period in the previous year of 637.
Cllr Denise Gaines, Executive Member for Highways, Housing, and Sustainable Transport at West Berkshire Council, said:
"We recognise the challenges faced by our residents on our road networks and are investigating innovative ways that we can prioritise our funding and deliver the best service possible across the district.

"The use of AI for monitoring road resurfacing and potholes is an exciting one. It results in cost savings, enhanced safety, better resource allocation, and a more efficient, data-driven approach to road maintenance. It's a significant step toward improving the quality and durability of road networks while minimising disruptions and safety hazards. The results of which I am very much looking forward to seeing."
West Berkshire Council's dedication to tackling road maintenance challenges head-on with innovative solutions sets an inspiring example for local authorities nationwide. The council's efforts continue to redefine standards and pave the way for safer and smoother roads for all.
Photo: Cllr Denise Gaines and Nick Dale, Principal Engineer
Last modified:
17 November 2023
15:08